First Drug-like Compounds to Inhibit Elusive Cancer-linked Enzymes
First Drug-like Compounds to Inhibit Elusive Cancer-linked Enzymes
A team of scientists from the University of Michigan Rogel Cancer Center has developed the first drug-like compounds to inhibit a key family of enzymes whose malfunction is associated with several types of cancer, including an aggressive form of childhood leukemia.
The nuclear receptor-binding SET domain (NSD) family of histone methyltransferases is comprised of three members -- NSD1, NSD2 and NSD3 -- which regulate chromatin integrity and gene expression. Overexpression, mutations, and translocations of NSDs are associated with several human malignancies, including NSD1 translocation with the nucleoporin 98 and 96 precursor (NUP98) gene, which predominantly occurs in pediatric patients with acute leukemia. For their roles in many cancers, NSDs have emerged as attractive targets for the development of small-molecule inhibitors. However, efforts to develop inhibitors of these enzymes have not been successful.
The research team -- led by Tomasz Cierpicki, Ph.D., and Jolanta Grembecka, Ph.D. -- used a variety of techniques including X-ray crystallography and nuclear magnetic resonance to develop first-in-class inhibitors of NSD1, according to findings published in Nature Chemical Biology.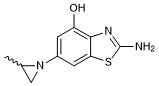 The lead inhibitor compound (6‐chloro‐1,3‐benzothiazol‐2‐amine analog 5; BT5) targets C2062 in the autoinhibitory site. An aziridine moiety (cysteine-reactive) acts as a warhead targeting the covalent bond of cysteine in a buried hydrophobic site. NUP98-NSD1-transformed cells treated with BT5 had inhibited growth and downregulation of oncogenic genes. These studies showed the on-target effects of BT5, which only inhibited growth of the patient sample with acute myeloid leukemia but not a patient sample with mixed lineage leukemia eleven-nineteen leukemia translocation.
BT5 and related compounds available at VulcanChem:
Quick Inquiry