Tesamorelin - a Potential Treatment for Non-Alcoholic Fatty Liver Disease
Tesamorelin - a Potential Treatment for Non-Alcoholic Fatty Liver Disease
A team led by researchers at Massachusetts General Hospital (MGH) has taken an important step forward in the goal of developing a potential treatment for non-alcoholic fatty liver disease (NAFLD), the most common form of chronic liver disease. In a study published in the Journal of Clinical Investigation on August 20, 2020, investigators conducted a genetic analysis that has identified how one promising therapy may work to improve the adverse effects of this increasingly prevalent health threat.
Non-alcoholic fatty liver disease (NAFLD), also known as metabolic (dysfunction) associated fatty liver disease (MAFLD), is excessive fat build-up in the liver without another clear cause such as alcohol use. Two types of NAFLD are simple fatty liver and nonalcoholic steatohepatitis (NASH). Simple fatty liver and NASH are two separate conditions. People typically develop one type of NAFLD or the other, although sometimes people with one form are later diagnosed with the other form of NAFLD. NAFLD is one of the most common causes of liver disease in the United States. Most people with NAFLD have simple fatty liver. Only a small number of people with NAFLD have NASH. Experts estimate that about 20 percent of people with NAFLD have NASH. Between 30 and 40 percent of adults in the United States have NAFLD. About 3 to 12 percent of adults in the United States have NASH.
In the reported study, the research team found tesamorelin could increase the expression of a set of genes that are associated with the burning of fat in the mitochondria—the "furnaces" in cells that play a key role in energy metabolism. As a result, the increased expression of key oxidative phosphorylation genes was associated with reduced expression of fibrosis genes. In addition, the study revealed that genes associated with inflammation were relatively silenced, or downregulated, in patients treated with tesamorelin compared with placebo.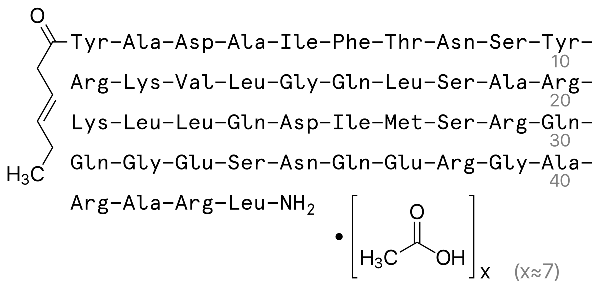 Tesamorelin is a stabilized synthetic peptide analog of the hypothalamic peptide, Growth Hormone Releasing Hormone (GHRH) indicated for the reduction of excess abdominal fat in HIV-infected patients with lipodystrophy. Lipodystrophy is a metabolic condition characterized by insulin resistance, fat redistribution, and hyperlipidemia associated with antiretroviral therapy for HIV infection.
Related products currently available at VulcanChem for research and laboratory purpose:
Quick Inquiry